Doc. 4   Smart Lubrication System 
(Japan Patent No. 6363571)
Patented technology developed by Viscon (Japan) Corp.  "Not  required priming
pump work "  lubrication system
If a poor lubrication occurs and  " no lubrication " occurs,
" why ?     Does the viscosity controller fail and breakdown  ? "
I'll  write about  it in another article of this blog later.
Before that, I would like to talk about important things for proper operation
of viscosity controllers, concerned with lubrication.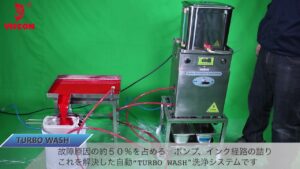 What is a viscosity controller ?
In the work of gravure printing and dry lamination,
the viscosity of liquids (solvent properties) such as inks and adhesives is
always maintained at the optimum viscosity of the liquid agent decided
during gravure printing and dry lamination.

If it cannot be maintained at the optimum viscosity,
it is not a viscosity controller.
It is another machine that looks like a viscosity controller.
They should not be called viscosity controllers.
I think that there are a lot of people who object to the remark
above me when writing like this as above , too.
If you think of cars as an example,
it's easy to understand.
What is a car?
The car we drive at work or in our lives is to put in the necessary fuel
so that we can drive and safely move to our destination by car.
If the exterior and interior equipment were equipped with a car,
put the necessary fuel in, I drove.
However, the car does not move normally and cannot move to the destination.
What would happen if such a car were sold on the market?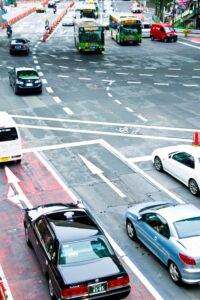 No matter how much it dress like a car,
if you can't get to your destination,
you definitely wouldn't be able to sell it as car  in the market.
Therefore, no one calls such an object a car
because such a thing is not sold, and it is not a means of transportation.
If the car cannot move, can not get to destination,
it is not a car.
If the viscosity controller cannot maintain the optimum viscosity,
it is not a viscosity controller.

Cars, like above, there are no things on the market that can't be moved.
However, in the case of a viscosity controller,
even if it can not be maintained at an appropriate viscosity,
there are many in the market.
so customers are also troubled.
This is the problem.
Overseas  viscosity controllers, such as Made in China,
Made in Taiwan, Made in Korea, viscosity controllers made by
foreign countries manufactures in those countries,
as long as I saw in the market of Asia for nearly 20years,
Those viscosity controller can not maintain the optimum viscosity,
because those manufactures did not have enough knowledge
of viscosity controller principle, and technology.
"Only the appearance is arranged the appearance of
a real viscosity controller,
and the appearance is the same
and the price is cheap"
"Such a  machine like "viscosity controller ".
( Not  real viscosity controller,
because function and quality  are not enough).
It specializes in such a way of selling.
It is not their concern whether the viscosity controllers they sell
are actually used properly in the customer's gravure printing plant.
Their concern is that if what they make is replaced with money,
it is an achievement of their purpose.
It doesn't matter to them how it looks, just imitating the machines of the industry's top manufacturers.
Anyway , their sales concept is the same as the viscosity controllers of
the " industry's top companies .
The price is considerably cheaper and more affordable."
This is the easiest way to sell in sales, with only price appeals for such features,
quality, and content neglect.
They have no idea that they will get the trust of their customers
and be in the business of getting a repeated order for many years to come.
Extreme story, it's good to sell to a customer at first look
who meets you at a street vendor.
They  are selling like the above, I feel.
There are more than 7 billion people in the world.
Anyway,  Even if there is a problem with the selling thing,
they will not take care of it.
Selling is their purpose,  after-sales service is not their concern.
There are more than 7 billion people in the world,
so you can sell their products to new people again.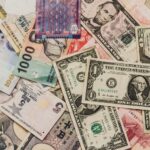 It is such an idea. Making money is only their concern.
It doesn't seem to be thinking about customer satisfaction
from the customer side.
No matter where they go, their satisfaction is ahead.
customers satisfaction is not their concern.
The pre-pres. of this blog article has been considerably longer.
Overseas, the quality of business is really varied.
Another similar example was written in another  article.
( in the near future, I prepare)
(Another  article 👉 👉 also fake brand commercial law in China)
As far as the problem of general business overseas.
The main subject is,
 "If proper viscosity management is not possible,
it is not a viscosity controller. "
What conditions prevent proper viscosity management of viscosity controllers?
The first possible cause is the failure/breakdown of the viscosity controller.

Lubrication failure problems accounted for about
30% of the failure causes of conventional viscosity controllers.
I've gone out of lubricating oil and forgot to refill it.
If it were this, it wouldn't be a problem.
(It is OK , solution is just only " Do not forget to refill oil")
The lubricating oil was missing and the bottle was emptied.
So I replenished it.
According to a survey at the exhibition,
about 80% of users thought this was no problem.
Only about 20% of user know that fact of priming pump work necessary
after refilling oil.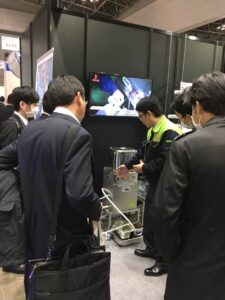 20% of the people who knew about necessity of priming pump work,
but it was unclear if they were always doing actually  priming pump work".
Moreover, they tried to do priming pump work, but they could not do properly.
Therefore, Viscon (Japan) Corp.  which tackles this problem head-on and
is familiar with the principle of viscosity controllers, succeeded in
developing a self-sufficient smart lubricating system
that does not require priming pump work.
The patent was also filed in 2015 and published in2017,
and in 2018, the examination was finished
and the patent was granted smoothly.
It is Japan patent certificate of smart lubricating system.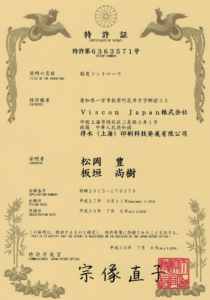 This Smart Lubricating system solves 30% of the failures of
conventional viscosity controllers.

It has already been 7 years since the development and release,
and we have received evaluation from customers as
Viscon Japan viscosity controllers equipped with patented technology
that is  " worth more than the price ".
For reference and documents. Click on the link below.
Open the PDF of "No priming pump work"
smart lubricating system on a separate page.
👉 👉  Smart Lubricating System  solved 30% of Failure Causes
👉 👉  Smart lubricating system " No priming pump work required "

YouTube
👉 👉    YouTube  Viscon Video  Smart Lubricating System
If any questions or unclear things,
please do not hesitate to contact us  Viscon Japan Corporation.    👇  👇